Moto Osada
Discovery Japan covers most of the "major" Japanese instruments such as Koto, Shakuhachi, and Shamisen. With some programming, editing, and tweaking, you can create a realistic mock-up of a "traditional Japanese chamber music ensemble." The loops and single hits are high quality and can be applied to the wide range of musical styles.
I usually use sample libraries when I need the sounds of acoustic instruments I don't own, or have no access to musicians who play them. Sample libraries also come in very handy when there is no budget to hire live musicians. When my client asked me for tracks using traditional Japanese instruments, I sort of panicked. Living in New York, it is not easy to find good musicians who play such instruments. I quickly came across Discovery Japan on the Internet. I got really excited because the demos sounded musical and authentic, and I could immediately see that Discovery Japan would offer a plenty of musical possibilities.
I was especially intrigued by the Shyomyo (Buddhist chanting) tracks. The solemn male chorus with interesting intonation can sound exceptionally compelling when used in not so traditional, but modern and crossover contexts. I created a pan-Asian, continental, and epic-type of track by combining one of the Shyomyo tracks with Taiko drums and other percussion sounds, and the result was quite satisfactory.
The sample library comes in Audio CD format to ensure universal compatibility. By editing the original samples, programming key-switching and assigning key releases, you can create very playable and convincing Japanese sampler instruments. I use EXS24 mkII that comes with Apple/Emagic Logic Pro, but I am sure that you can achieve the same results with other major samplers.
There is a plethora of sample libraries in the market today, but Discovery Japan stands out as a truly unique product that caters to specific needs of composers.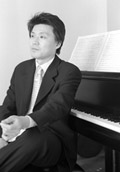 Moto Osada
Moto Osada's masterworks:
"JoHaKyu" for cello and piano
"Take the Six" for marimba and electronics
"Kaguyama Dance" for viola and piano
TV news show:"Night Eye," Fujisankei Communications International, Inc.
TV variety show:"Prime," Fujisankei Communications International, Inc.
UK Music Tech magazine November 2003
by Nigel Lord
particular, have a wonderful breathy quality to them which you simply don't hear on synthesized versions. (omission) Any 'crossover' that does take place will have to be within your music? and that won't always be easy, particularly as far as some of the vocal samples are concerned. Traditional Japanese music may have become more familiar to us in the West, but retains its innately alien feel. That, clearly, is part of the attraction.
UK COMPUTER MUSIC magazine March 2004
Verdict: 9/10
It's not often a sample CD comes along that's genuinely and radically different, but that's what we have here. Whether you're seeking a truly authentic Japanese flavour for a soundtrack or an interelude in your songs, this collection of 90 tracks of traditional Japanese instrument phrases, vocals and percussion should see you well on your way.
The instruments in question are the Tsugaru-Shamisen; the Shakuhachi Bamboo flute; the Shamisen; and the Koto, and all have been played by experienced hands. On top of this, there's a multitude of Japanese percussion instruments, from the Bonsyo to the Hiradaiko. There are some wondrous tones that offer really interesting ear candy and can take on lives of their own when introduced to a sampler.
It is a rare item of beauty that you will definitely find a use for. Truly captivating and inspiring.